Meet Captain Jake, the star of our Insights video series
After working alongside Horváth & Partners and Finnoconsult for a few years, we wanted to take what we had learned from them and share them in a set of motion design videos.
So have fun with our animated video series "INSIGHTS" and some "Behind-the-Scenes" where you can learn about its creation process beyond the final results. 
As well as breaking down the facts on for example how to optimise goal setting, we had a blast producing the animation – and we managed to do it in a really short space of time, too. From ideation and storyboarding onto production it took us less than 10 days to finish. Go us!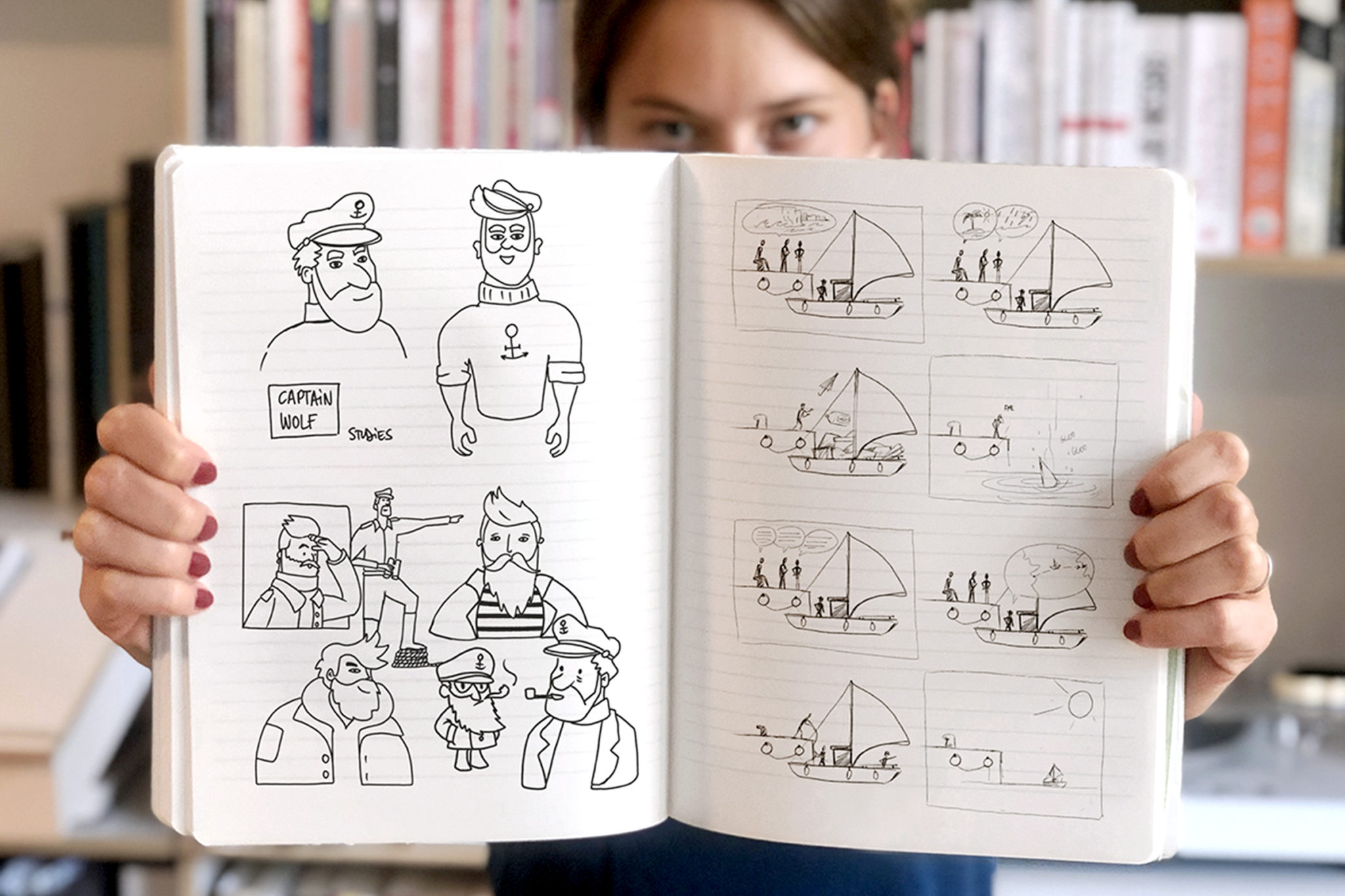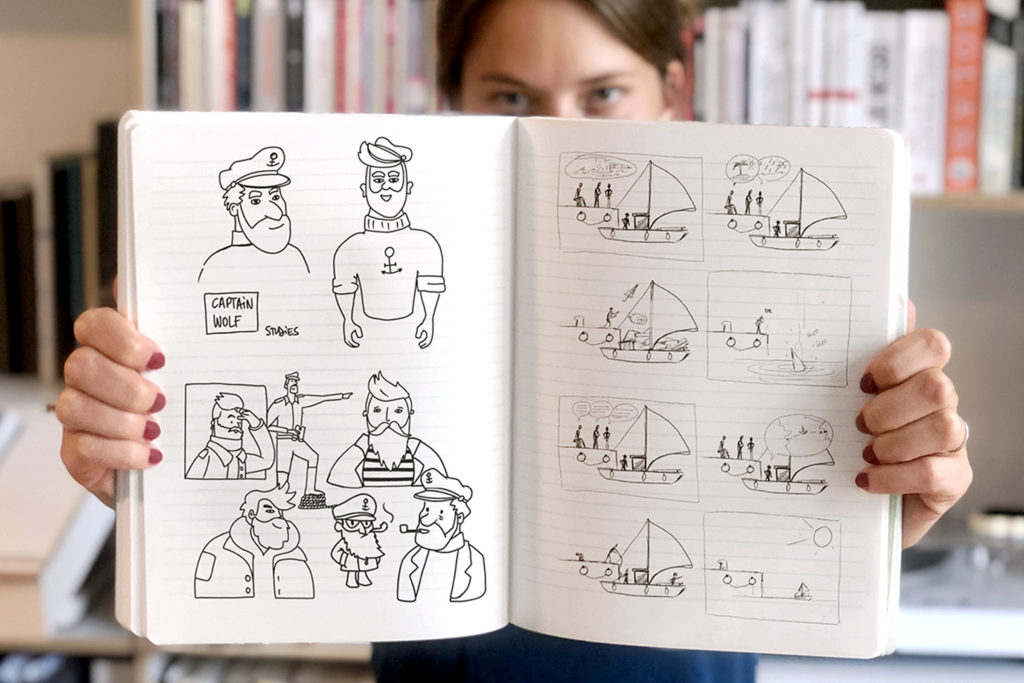 "Ideation to design" isn't just something we preach in our design-thinking workshops – we also apply it to our everyday projects. These are early scribbles of the storyboard.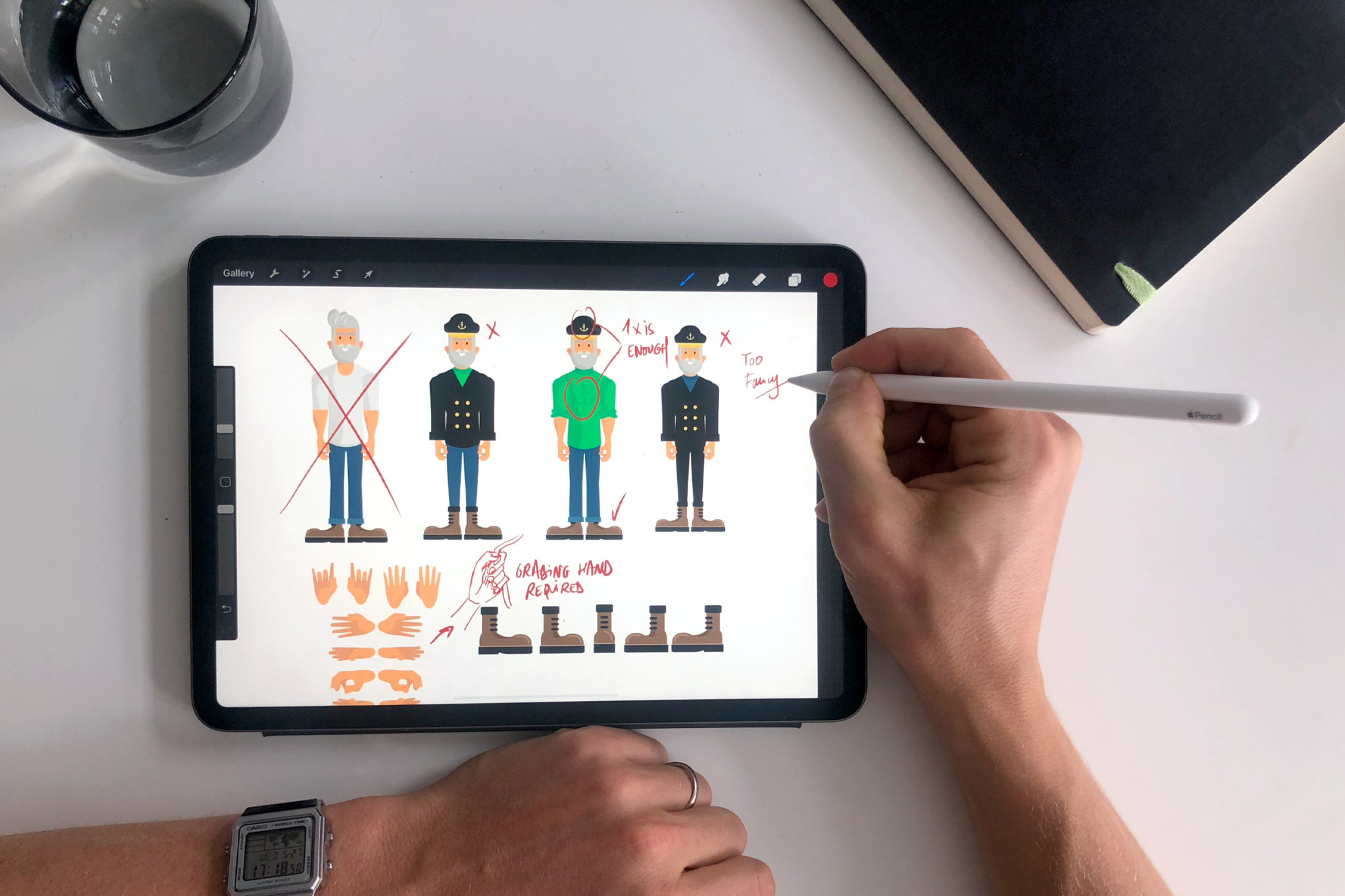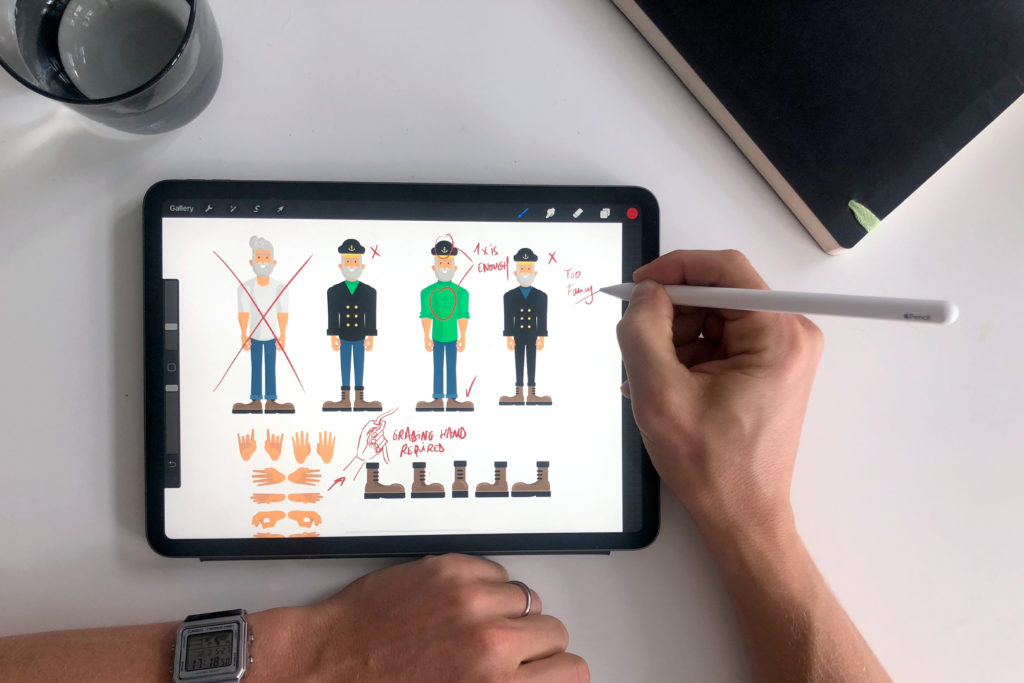 When coming up with the character concept of Captain Jake, we were looking for friendly, emphatic facial expressions and body language. During the series, the characters are likely to evolve but we had to decide quickly on Captain Jake's look and feel; ensuring they were in line with the branding of both Horváth & Partners and Finnoconsult.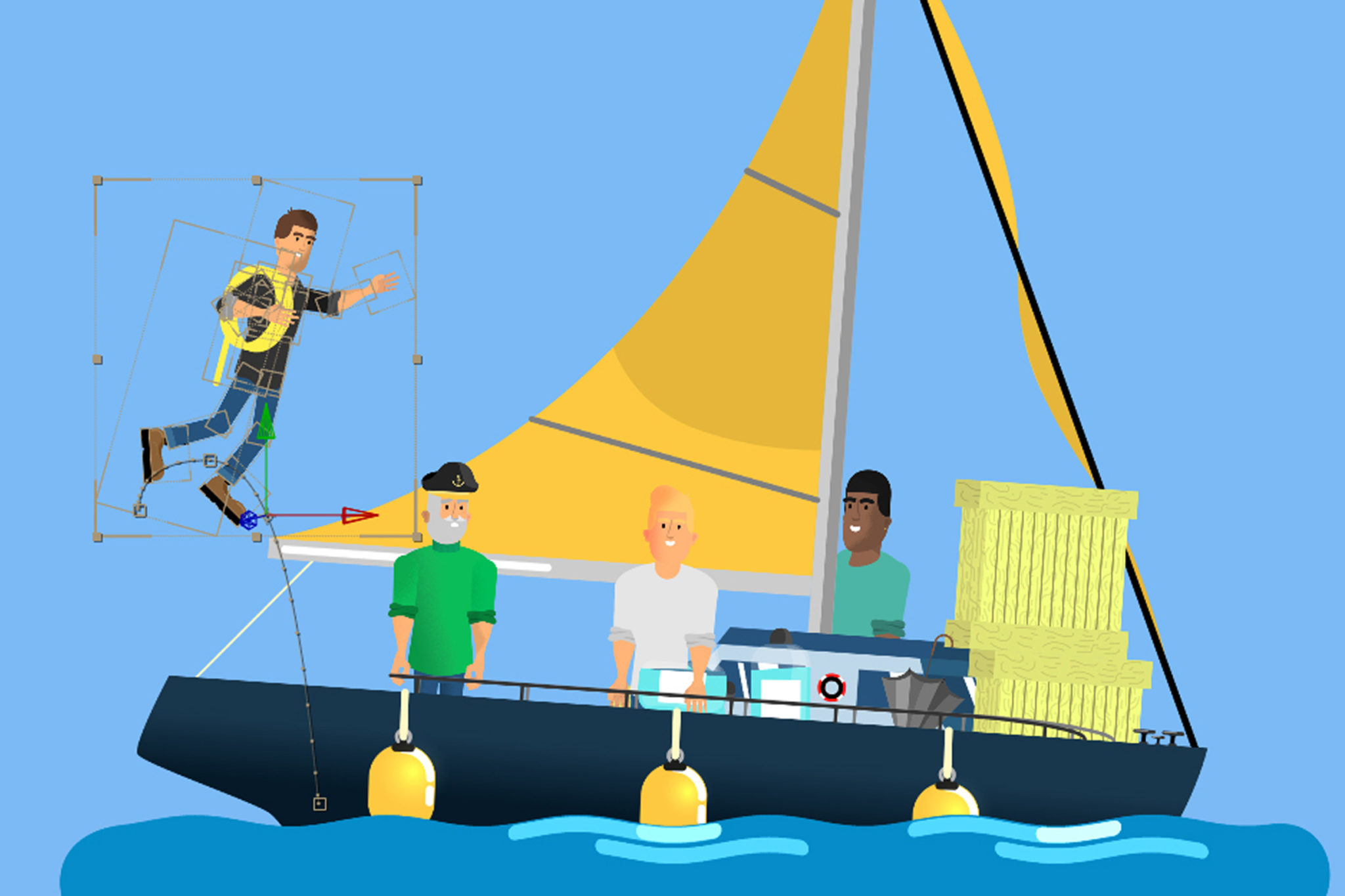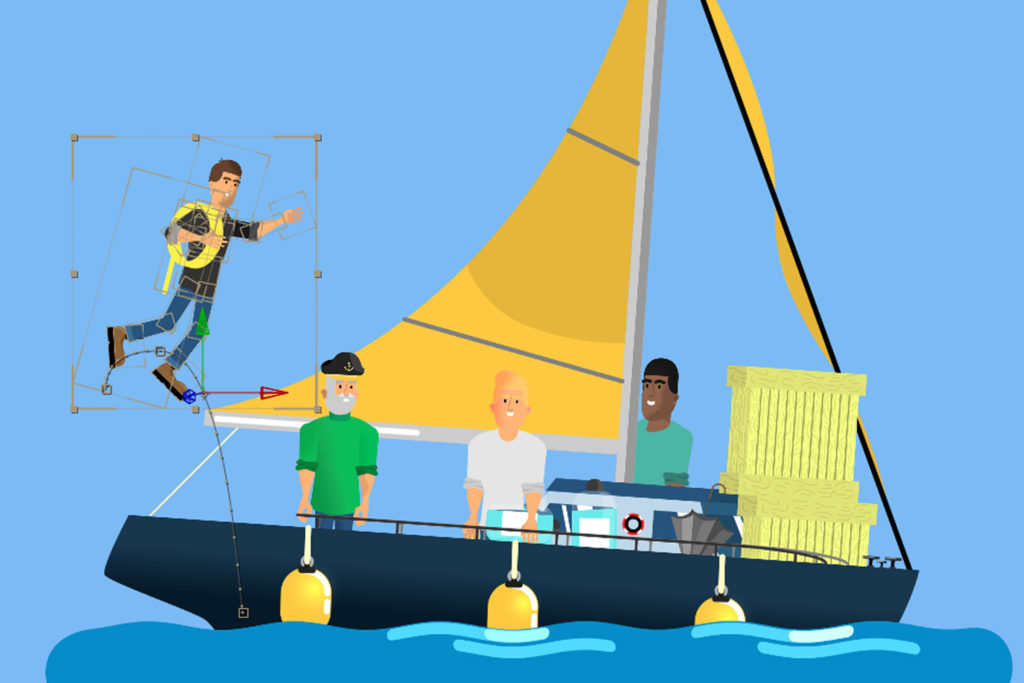 This was a new record for us. First we designed the assets on Illustrator and created the vectorial graphics. Then, to get a sense of depth, we played around with different layers and tried to craft isometric assets to get a feeling of "fake 3D". Everything was made more dynamic by animating the clouds, water and the rest of the environment.
We took inspiration from the traditional French-Belgian "Bande Dessinée" codes, which can be seen in the facial and body expressions that look great without too much effort.
The whole story was animated with After Effects and despite the video being less than 30 seconds long, every render ended up taking more than an hour to complete. However, this meant any mistakes could be captured and corrected, and all iterations were refined for the finished product.
How to get the most out of your team and your projects.
In the first of our video series "INSIGHTS", we're focussing on how to set strategic goals in project management. This is something both Horváth & Partners and Finnoconsult practise themselves and encourage their clients to do during projects.
At ENNO, we can't stress enough how much a clear goal helps kick start any project. All too often we see a massive change of direction at the last minute because a goal wasn't clearly defined at the start.
Horváth & Partners and Finnoconsult are huge fans of the SMART grid model to help clients setting out their strategic goals. You can learn more about this (and more) by taking a look at the blog article by David Baum (Senior Project Manager).
Why companies really have to understand their customers' problems.
This is a video we created about how to "Solve Your Customers' Problems".
Horváth & Partners and FINNOconsult have often experienced during their work as strategic consultants that companies often focus on dealing with the symptoms instead of looking at the heart of a problem. As Albert Einstein once said: 'If I had an hour to solve a problem I'd spend 55 minutes thinking about the problem and 5 minutes thinking about a solution.'
In this video with Captain Jake and his crew, discover how to focus more on your customers' problems and pick up some tips and tricks on how to find and solve them. 
How you can implement new ideas and business models both quickly and cost-effectively.
Do you know what an MVP is? These three letters stand for the "Minimum Viable Product", which describes a first functional version of a product that could survive on the market.
It is all about quickly generating value for the customer, getting a first, slimmed-down version of the product that only includes the most important core functions and can be produced quickly. On that basis it can be improved and developed continuously with the help of customer feedback.
The problem of how to solve challenges with the help of MVPs is illustrated in our new Insight series by Captain Jake.
Stay tuned for more videos coming soon, where we'll present further INSIGHTS to you!
Our Partners
Finnoconsult Innovation consultancy for enterprises in the finance and insurance sector.
Horváth & Partners International management consultancy for corporate management and performance optimization.